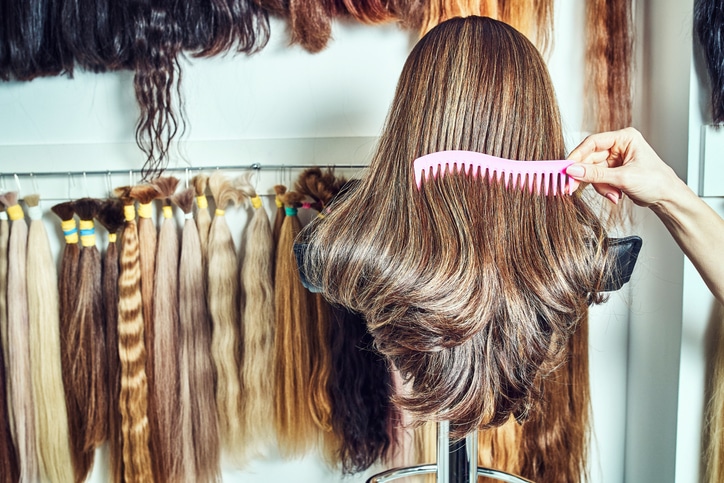 Hair Pieces for Women
Hair Pieces for Women in Orlando and Winter Park FL
Hair Pieces for Women in Orlando and Winter Park Florida
Everyone wants their hair to be strong and shiny, and hair pieces can help you with it! Women who want to add volume, fullness, and/or length to the top of their hair should choose the best quality hairpieces.
Available in both real and synthetic hair. Whatever you're hoping to achieve, Bonne Vie Salon has the widest selection of alternatives for organic hairpieces in the Orlando/Winter Park area. We provide a large selection of hairpieces that are ideal for any lady seeking fuller, thicker hair.
Many persons with thinning hair may not require or desire a complete wig. Here at Bonnie Vie, we provide fantastic solutions like hair pieces. Our extensive selection of hairpieces is ideal for those who wish to volumize their appearance for a night out or conceal a partially exposed scalp. If you are losing hair due to hairstyles like cornrows, tight ponytails, or extensions, a hair piece can be the solution for you.
Hair loss can be caused by stretching the hair follicle, which can be prevented. For women who are in the early to mid-stages of hair loss or who just wish to give the crown/top of their head more fullness, toppers and top pieces might be a useful alternative.
For women, hair loss may be both humiliating and annoying. Hair pieces are an easy and inexpensive way for ladies to cover up these weak spots.
Women and young girls who have thinning hair or hair loss on the crown have a practical hair alternative in the form of top hair pieces. However, we would suggest a wig for complete hair loss. A topper might be the ideal solution even if you don't suffer hair loss but wish to add volume, color, and possibly length to your hair. While some more thoroughly cover the crown of the head, some give volume to the portion region. Other hairstyles can be used to lengthen and volumize women's hair on the sides and back. We offer a wide variety of soft, flexible hair pieces so you can find the ideal level of coverage for any stage of hair loss.
Benefits of Hairpieces
The use of hairpieces has several advantages.
Flaunt that Silky Hair
Our hairpiece is a complete package for people suffering from hair loss due to serious medical conditions. For ladies who are balding or have thinning hair, we also provide wigs.
Cost Effective
Getting a hairpiece is far less expensive than having a hair transplant. It is important to note that using a hairpiece can help you avoid dangers such as a protracted recovery period, subpar outcomes, and surgical problems.
Different Look
The finest aspect is that a wig will instantly change the way you appear. With the right maintenance, your hairpiece can endure for many years and may be customized to fit your style, mood, or requirements. You get to decide! The Bonne Vie Salon team is aware of how important hair is to a woman's self-esteem and confidence. The team at Orlando, Florida's Bonne Vie Salon is delighted to assist you in regaining your confidence and peace of mind because trying to conceal hair loss may be draining.
We have beautiful hairpieces to match a variety of hair colors and textures. Because of a hairpiece's non-invasive construction and adaptability, many ladies opt to wear one.
A hairpiece is an excellent technique to conceal balding patches on your head if you want a non-permanent approach to hair extensions. Women's hairpieces are an enjoyable and practical solution to hair loss in Orlando, Florida.
In order to satisfy both our salon and retail customers, Bonnie Vie aims to offer high-quality hairpieces and extensions. We provide consumers with high-quality goods at competitive pricing. Our objective is to improve our goods using premium components and workmanship continually. We provide the most up-to-date hairpiece methods, such as undetectable hairlines and sturdy knotting.