Hair Extensions with Endless Options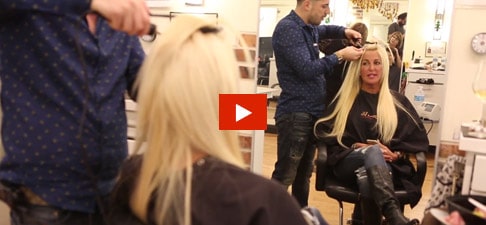 SoCap Hair Extensions Create Magnificent Hair Transformations
Orlando hair extensions professionals at Bonne Vie Salon offer voluminous, long, and versatile human hair. The type of hair we all desire. We want the hair we see in magazines and worn by the leaders in fashion across the world. But some of us just weren't born with it. Fortunately for you, your desires are only a hair extension away. At the Bonne Vie hair extension salon in Orlando, FL, you can transform your short, flat, monotone colored hair to celebrity-ready in no time!
As a leading hair extension salon in Orlando, FL, we not only offer the best hair extensions in Winter Park, but all of our hair extensions come with our experienced and knowledgeable staff who will help you choose what's best for your unique situation. Hair extensions offer a fashionable alternative to waiting around for your hair to grow, but there are also many women who truly need hair extensions due to thinning hair. Whatever your case may be, our human hair extension system in Orlando, FL will look natural, give you a wide variety of colors without damaging your hair, and enhance your natural beauty.
In Orlando, FL, we obtain the best hair extensions that can be found in some of the largest salons across the world. You may not be in the big city, but your hair doesn't have to know that! As experts in the field, we know how to listen to our clients, giving them exactly what they're looking for in their Orlando hair extensions from Bonne Vie Salon. We offer So. Cap Extensions, Hair Dreams, and Great Lengths, and Tape Hair Extensions by Brijon in our Orlando salon. Hair Dreams, and So. Cap extensions offer beautiful results for anyone in Orlando, FL. These are a fusion hair extension, which uses specialized hot fusion and cold fusion machines to bind the hair extensions to your real hair. As a hair extension salon, we provide only the best quality to our clients. Our trained staff is extremely knowledgeable on which hair extension is best for you.
Tape Brijon Hair Extensions
Tape Hair Extensions by Brijon and Great Lengths in Orlando, Fl use a different method to apply for the hair extensions. Tape Hair Extensions are loved by many because of the speedy application process. In as little as 45 minutes to 1 hour, you can have beautiful hair extensions.
So. Cap Extensions
Why So. Cap Extensions? As one of the leading manufacturers of hair extensions, every hair is 100% natural. With 81 colors in varying lengths and textures, the options are endless, which keeps your hair fabulous! The So. Cap headquarters is located in Italy, where you will find a team of specialized research chemists and engineers. These highly qualified professionals are constantly working to improve the So. Cap hair extension line. Each high-quality extension is pre-bonded for easy application and long-lasting results. So. Cap uses cutting-edge technology and produces keratin-based extensions made of only real hair.
The Difference Between Synthetic Hair Extensions and the Real Human Hair Extensions Used by Bonne Vie Salon Professionals
A common misconception is that hair extensions are difficult to keep up with, and that you will have to put extra work into making them look like your real hair. Though that may be true with synthetic hair extensions, Bonne Vie Salon only offers the best hair extensions available. That is why we choose So. Cap. You won't need to give extra care to your hair extensions, and they don't need to be styled with chemicals or heat. Your hair extensions from Bonne Vie are real hair, and can be treated like real hair!
Why More People Choose and Trust the Hair Extension Professionals at Bonne Vie Salon
Now is the time to have the algae thick, long, healthy-looking hair as the top celebrities and fashion models. The experienced and caring staff at Bonne Vie Salon will transform your hair, and your self-confidence.
Go to www.socapusa.com to learn more about the Human Hair Extension System.
Call For Pricing 407-875-2525
Every service provider at Bonne Vie salon works on a level system.
This level system completes two main goals.
The first is to provide career growth and achievement for the Bonne Vie's team.
The second is to provide several options for your various service needs.
Service providers get level promotions based on the demand for their time.
Guests may choose the level that best fits their needs & their budget.
The training of our team is consistent, innovative, and in-depth.
It starts from the moment a service provider is hired & continues through the entire career with Bonne Vie.