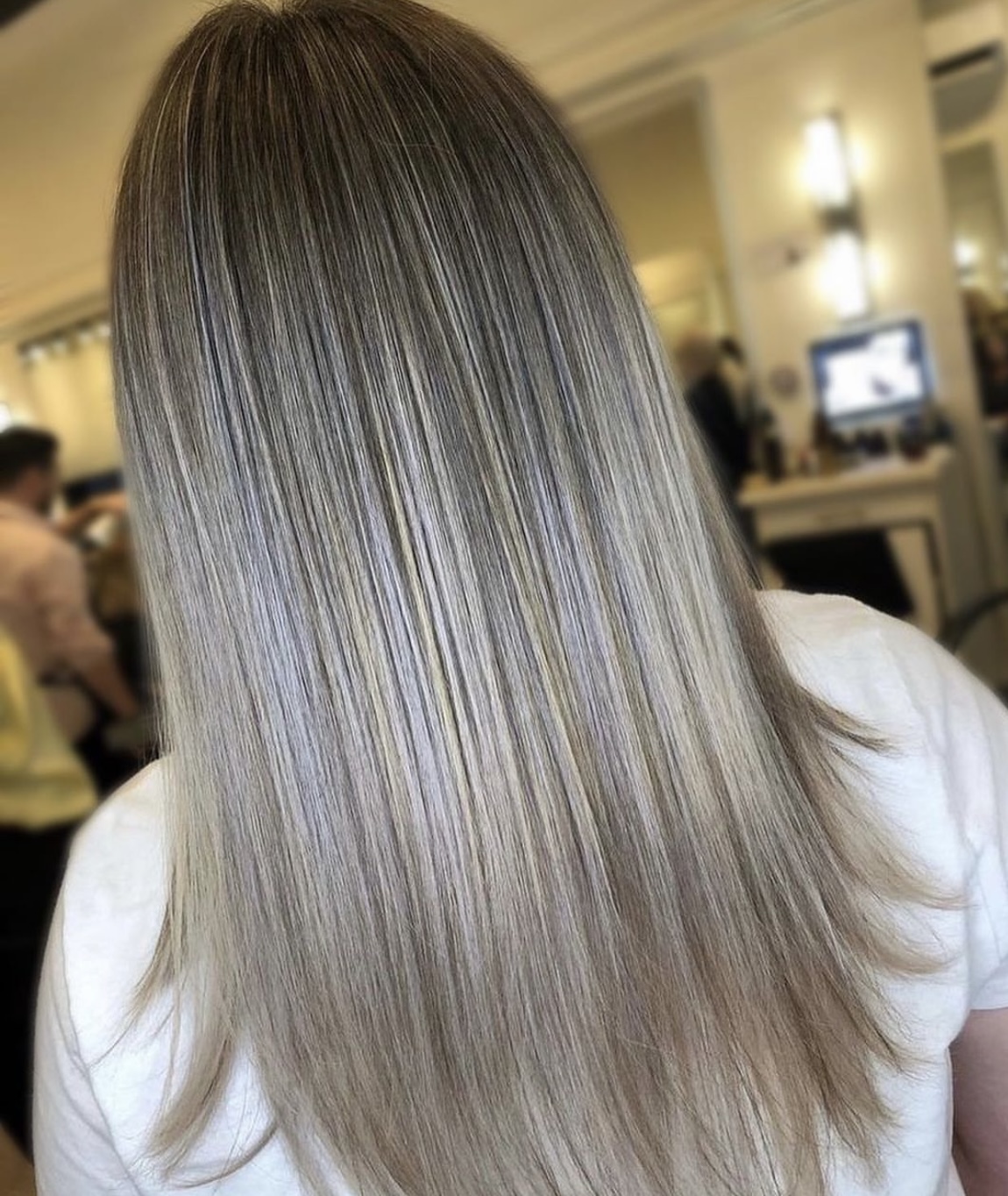 Brazilian Blowout vs Keratin
What is Brazilian Blowout vs Keratin?
What is Brazilian blowout vs keratin?
It is important to take proper care of your hair so that it grow and remains lush, glowing and in good health. However, the tresses get tired due to heat styling, coloring, etc. There can also be experienced stubborn frizz that will need professional assistance. You do need a smoothing treatment like 'Brazilian blowout' that promises to deliver quick, safe and gorgeous results.
Improve overall hair condition
Be it taming your curls or make your hair straight, this smoothing treatment can be customized to eliminate frizz. The bonding technology infuses shine and ensures healthy, soft hair. Besides this, it offers instant results. There is no downtime involved that otherwise is noticed with keratin. The latter requires you to wait for three days after which you get to wash the hair. Moreover, this treatment helps reduce blow dry time by half while the effect last for about 12 weeks straight. This is mostly based on your hair routine and style. You will also require less of heat styling to smooth curls or tame frizz.
Brazilian Blowout and Keratin Treatment
The difference among them is mostly noticed with the active ingredients used for the treatments. Amino acids are used when providing Brazilian blowout treatment. These are tiny molecules that allow rinsing the treatment on the same day. But Keratin needs to be crystallizing for more than 72 hours. There is no hassle involved with over-keratinizing the hair with Brazilian blowout type that otherwise might cause breakage. After keratin treatment, you are to be careful for around three days. During this time, you cannot wash your hair, have ponytails or clip it back. Doing so will only dent it. But with the blowout therapy, you may resort to your regular hair routine instantly.
Ingredients used and risks involved
According to the industry specialists, both treatments are very much safe to color-treat your hair. You will enjoy that shiny, healthy feeling. Formaldehyde usage amount is one major difference to note. In Brazilian blowout, formaldehyde used is approximately 12% while keratin treatments offered have low formaldehyde. This ingredient is considered to be an irritant. Some people have reported experiencing watery eyes or burning throat. It is undoubtedly a health risk that you need to be aware about. Hence, if you want to make a cautious approach, is sensitive towards this ingredient or allergic, then choose products having low-formaldehyde. You may discuss with your hair professional as to which option will suit your hair and overall health.
Purpose
For what purpose you desire to avail these treatments is another notable difference to consider. Both are frizz-eliminating and smoothing. Keratin treatments can fix damaged hair something that Brazilian blowouts simply fail to. In case frizz stems from damage, get a treatment that focuses more on healing the hair cuticle. Those with healthy hair may loosen or smoothen their curls without any worry. The well-trained hair stylist will evaluate your specific goals and needs and accordingly prescribe the most appropriate treatment.
Who is a better candidate to avail Brazilian Blowout treatment?
This treatment is designed to be used on all types of hair. It also complements well color-treated hair to derive post-color treatment. This is because it nurtures the cuticle and seals it effectively. Thus, it is a wonderful treatment for those who desire to repair their damaged hair or seek smoother hair. For hair coloring after undergoing the treatment, you will have to wait for about two weeks time.
Again if you desire straightening, frizz control or hair volume Brazilian blowout is a wonderful option to choose. Being a customizable treatment, it allows you to add volume right at the root level using a flat iron. Thus, even limp hair can get that bounce. Lower heat can also be availed to maintain curl and body. At the same time, it also eliminates stubborn frizz.
Brazilian Blow Maintenance and Care
This treatment is claimed to last for approximately three months until which you can enjoy sleek, shiny hair. But you should not be swimming in salt water, take proper care of your hair and wash it every day. Each treatment requires you to use a recommended shampoo. Your salon expert will specify what to use and avoid. Sulfate-free shampoo is what you need to invest in. based on frizz and natural curl, growth will appear different.
What should you expect at the professional salon?
The process is quite similar for both the treatments. The client's needs are what tend to change. There are many who care little for frizz even if more body is left in their hair! Whatever be your appointment type and requirements, you will get the opportunity to consult the expert about your needs. They will also get to know your expectations considering which they will determine the best available treatment. Then, the process is initiated. Your hair is clarified to eliminate buildups, thus allowing the solution to work much faster and offer better results.
Benefits of Hair Treatments
√ Increased thickness
√ Improved texture
√ Ability to grow longer, thicker and stronger hairs
Factors to consider when choosing between Brazilian blowout and keratin
There are tons of reasons why Brazilian blowouts and keratin treatments seem to be the new thing in hair care. But which one is better?
To find out which treatment is right for you, we've done some research and put together a list of three factors to consider: cost, convenience, and results.
Should I choose Keratin Treatment or Brazilian Blowout?
Factors to consider:
Cost
Keratin treatments can be pretty pricey if you're going for something more permanent. Brazilian blowouts are far less expensive, but they're not necessarily cheaper than other options. If you want straight hair to last longer than just a few months (and don't mind spending extra money on something that will last longer), then investing in a Brazilian blowout might be worth it. Keratin treatments can also cost more if you have thick hair — so make sure to check out your stylist's pricing before agreeing with him or her on what kind of treatment works best for you!
Convenience
Both types of hair treatments take time, so it's essential to find one that fits into your schedule — early in the morning or after work hours. If you don't have time to get ready before work or school every morning, then an evening appointment may be the best fit for you. Some people are able to get their hair done during the day at a salon and then go straight home to work on their hands-free blowouts.
Results
The results of a Brazilian blowout are more predictable than the results from a keratin treatment. This is because, unlike with keratin, the hair doesn't have to be cut short before the treatment. The length of your hair is never altered by any styling or color application; this means that there's no need to worry about damaging the hair by using products or tools that might cause curls or frizz.
Reasons why a professional might recommend keratin treatment
There are several reasons why a professional at Bonne Vie might recommend keratin treatment. The most common is because the client wants to look better. Many people want to improve their appearance, and this is an easy way to do so.
Other reasons include the following:
1. Changing hair color
2. Adding highlights or lowlights
3. Getting rid of gray or white hair
4. Changing the shape of the hairline
Visit Bonne Vie hair salon today to learn more about Brazilian blowout vs. keratin and other hair treatment options.